Since 2019, All Beings Yoga has been working with people recovering from injuries, people with physical limitations and people of all sizes and body types. Our goal is make yoga accessible to all. Watch our short video to learn more!
---
Start the New Year with Balance and Care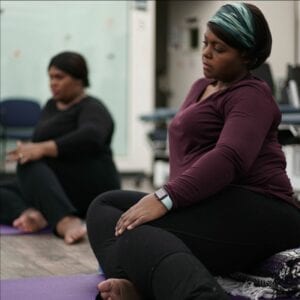 Ever wanted to try yoga but fear that it's not for you? Now is your chance.
Learn to avoid injury, practice safely and mindfully. Develop a practice that is tailored to your needs and goals.
New Student Package
ONLY $100 for 3 Classes
---
BOUTIQUE YOGA CLASS SCHEDULE
Maximum 6 students per class. Cost: $40 per class, $360 for 10-Class Card
Tuesdays
6:00 pm – 7:00 pm         Beginner
7:15 pm – 8:30 pm         Intermediate
Saturdays
9:30 am – 10:45 am      Intermediate
11:00 am – 12:15 pm    Beginner
PRIVATE SESSIONS

Working one on one in a private session, you will find a practice that is tailored to fit your experience and interests with special attention to any injuries and your specific needs and goals.

Private sessions are appropriate for all levels from beginners to the advanced practitioner, and are a great way to ease into group settings, deepen your practice and get the individual attention that is not available in an open class. Single sessions and multi-session packages available. Try a 50-minute session. Bring a friend!