Join Anita on FB Live for a FREE Chair Yoga class that you can do at your desk!
Chair yoga provides the same benefits as mat yoga, but allows for folks with limited space and mobility.
Anita will guide you through accessible but effective stretches, designed to reduce stress and boost productivity. No yoga mat, change of clothes, or experience required.
---
Yoga at Your Desk
15 minutes of peace and focus
Wednesday and Fridays
February 2021
9:05 – 9:20 AM ET
Join us on the All Beings Yoga FB page!
---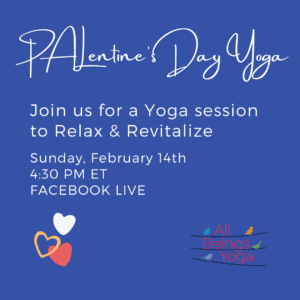 PALentine's Day Yoga
Would you be our Pal? <3
Come join us for a PALentine's Day Yoga this Sunday at 4:30 PM ET.
Pack up your pals for this rejuvenating yoga session.
Join us via Facebook!
---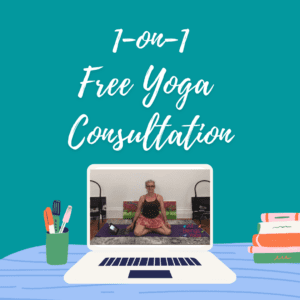 1-on-1 Free Yoga Consultation
Want to try yoga for the new year but have a few questions about how and where to start?
Anita is offering FREE 1-on-1 Yoga Consultation.
---
All Beings Yoga Schedule
Tuesdays
7:00 PM – 8:00 PM ET
Thursdays
6:00 PM – 7:00 PM ET
Saturdays
9:30 AM – 10:30 AM ET
$20 per class
$160 10-class card
Experiencing financial hardship at this time?
We offer you a 50% discount.