Anita Haravon, PhD - Yoga Instructor
Yoga Classes
Anita Haravon, PhD - Yoga Instructor
Yoga Classes
We make yoga accessible to all. 
Join Anita Haravon, founder of
All Beings Yoga
, for a 30-minute yoga experience, designed to get you moving AND calm your nervous system.
Wake Up and Smell the Yoga!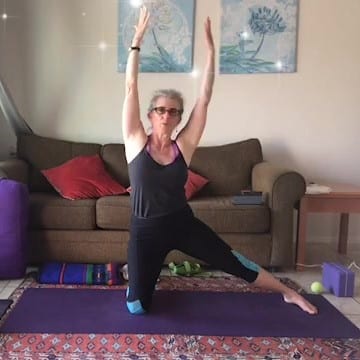 M W F
8:00 AM ET
Wake up for a mat-based class, focused on grounding, stretching and breathing.
Chair Yoga, it's Not Just Sitting Around…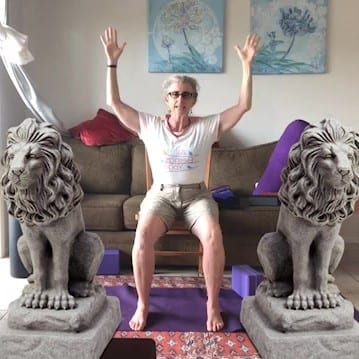 Tu Th
11:00 AM ET
Try an invigorating and grounding chair yoga class, accessible for folks with mobility impairments, fun for everyone!
Register using the link below.
Make a donation in the amount of your choice.
SUGGESTED DONATION:
$8.00 per class
If you plan to attend:
3 times a week-$96/month
2 times a week-$64/month
Once a week-$32/month
These amounts are merely a suggestion. Please, give what you can! No amount too small!
After you make a donation, hold your spot for as many classes as you like for ONE MONTH. You will receive an email with the zoom link for the class.
Let's try this system and see how it goes!
When you register, you will receive an email with a Zoom meeting link.
Click the link to join the class!
NO ZOOM ACCOUNT or technological knowledge necessary.
Just a CLICK!

UNLIMITED TO 30 DAYS OF 30-MINUTE CLASSES!
ABOUT ANITA
Have you wanted to try yoga, but fear it is not for someone of your height, weight, age, gender, level of fitness, degree of flexibility, etc?
Experience yoga with an instructor who works with people recovering from injuries, people with physical limitations and people of all sizes and body types.
Anita uses her yoga training and health care background to make yoga accessible to all. Her teaching style is perfect for students who want to practice with balance and care in order to prevent and avoid injuries.
WHAT PEOPLE ARE SAYING
Testimonials
Anita has a special gift for teaching with a flare for creating a practice that's tailored to you and your specific needs. She showed me how to increase strength and flexibility after a shoulder injury and has helped enormously with my balance and posture.

– LAURA C., Journalist
Private sessions with Anita have been excellent! Her knowledge of physiology goes well beyond what you would normally get from a yoga session. I have a back injury and feel completely safe working with Anita. During a flare up of back pain, a session with Anita actually provided pain relief. I have never enjoyed yoga in the past and now I look forward to practicing it weekly!

– NICOLE, Attorney
I took several classes with Anita and she is wonderful. Very understanding of my physical limitations and knowledgeable on how to work with me. Beautiful heart.

– CLAUDIA, Paralegal
I see Ms. Anita once a week at the senior center. I am getting more flexible slowly
but surely.

– LAURA M.,Retired